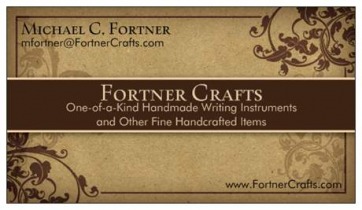 ---
---
---
---
---
---
Every now and then, my web host looses my e-mail. I tend to check my e-mail several times a day, so if you don't hear back from me within 24 hours please e-mail me directly from your own e-mail account to either of the following e-mail accounts, with your name and preferred contact information and I promise I will get back to you immediately:

FortnerCrafts@gmail.com
or
mfortner@FortnerCrafts.com
---
---
---
Shipping.

For Domestic shipping in the U.S., I typically use USPS 2-3 day Priority Mail, Flat Rate Boxes for your items.
If for whatever reason you would prefer regular first-class shipping, please contact me and let me know.
First class can sometimes save a few dollars, but usually only for single item orders.
During checkout, PayPal will more than likely require you to pay more shipping than is necessary.
I will ship your items in the smallest (least expensive) Priority Mail Box or first-class envelope,
and refund any excess shipping charges through PayPal that you may have been required to pay.
Typically up to three regular pens, in felt boxes will ship Priority Mail for $6.00, and arrive in 2-3 days In the US.

I'm not out to make money on shipping or "handling" charges.
Unfortunately due to the differences in size of the items, it is difficult to charge a single accurate shipping price
at checkout, since I don't have a way to tell PayPal what size Priority Mail box multiple differently sized items will all fit in.

For International orders, please contact me before ordering for a shipping quote. I use International First Class Mail services, unless an alternate shipping method is requested. If there is no request made before purchase, PayPal will charge a flat
$25.00 USD at checkout, and I will refund any excess shipping charges through PayPal that you may have been asked to pay.
​I will send an e-mail with the actual shipping charge.

Custom Requests.

Most items that appear on the website are in stock, and usually ship within 24 hours.
Custom made items will take a little longer, usually 1-2 weeks, and I will contact you with estimated shipping time.
For custom orders, I will make the item you request, and then e-mail you a picture for your approval
of the actual item you will receive. Once approved I will ship it to you as above.



---
---
---
Warranty.
My goal is to offer only the highest quality products I can produce. The Items I have for sale were made and assembled exclusively by my hands, in my home workshop. I do not manufacture any of the various metal parts, or mechanisms used in my items. Those I buy from a distributor. I inspect every part prior to placing in service. I strive to produce the highest quality control I can possibly accomplish, and would never intentionally sell any item that would be considered "defective." That being said, If you receive your item, and are not fully, 100% satisfied with it, please let me know within 30 days of purchase,
​and I will make every effort to make it right. The worst thing you can do to one of my items is to loose it. Everything else I should be able to fix!
-Mike Fortner
---
Liability
Fortner Crafts will not be held accountable for any injuries or damages incurred by the blatant misuse of any item sold on this website. Every item sold on this site has a specific, socially agreed upon use, and is perfectly safe when used as designed. I do not manufacture the ink cartridges in the pens, and I will not be held responsible for ink damage to any item. Please be cognizant of where you are storing your pen, ink stains on clothing are impossible to remove. I do not manufacture the razor blades sold with my shaving handles, so if you cut yourself shaving, I will not be held responsible. Many of the items on this website contain small parts. These items are obviously not intended for small children who like to put things in their mouth. Actually, these items are not intended to go into anyone's mouth, so if any part is swallowed, or inserted into any other bodily orifice, I will not be held responsible. It is probably not a good idea to try to take one of the bullet pens onto an airplane or into a similarly regulated "secure" area. I will not be held responsible for any monetary losses due to missed transportation, ruined travel plans, or an indefinite detainment due to Law Enforcement questioning you about your choice of writing instrument.
I will however, be very happy to make you a similar replacement item once your ordeal is over, for full retail price of course.
If any point made above sounds unreasonable, it may be time for you to move on to another site.
I thank you for spending time on mine.